The Wedding Ancient Relaxing Massage 75'
The Wedding Ancient Relaxing Massage 75'
Loose yourself in a journey of sensations, enjoying a 75 minute relaxing massage with delicious almond oil, in a restored historical building surrounded by candles.
You'll also enjoy of The Ancient Thermal Bath circuit, a tour through baths at different temperatures (hot, cold, warm, ice), bath of a thousand jets, the Vaporium (Steam Room with aromatherapy), and the Flotarium (Salt Water Bath), in addition to the salt exfoliation area.
Live a unique experience of total relaxation for the body and the mind through the pleasures of water in a magical atmosphere.

You will also enjoy exclusive complements from The White Collection to ensure total hydration from top to toe

Let go in the relaxation area while you soak your feet in a botanical bath, a new element aimed to moisturize and rejuvenate your feet while enjoying a moisturizing facial mask.
Relaxing Massage
Includes:
The Thermal Bath Experience
A 75 minute relaxing massage
Moisturizing facial mask
Botanical foot bath with magnesium salts and almond, sandalwood and lavender oil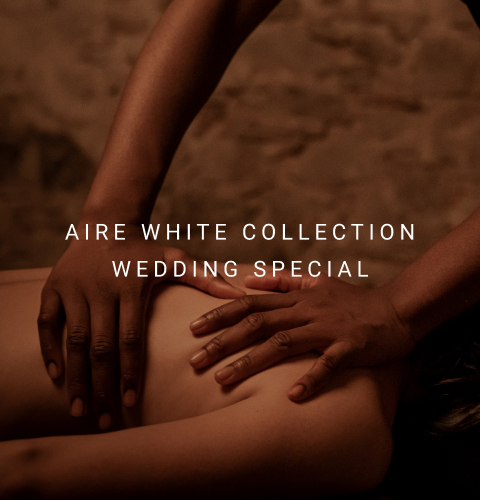 Body and mind benefits:
· Muscle tension release
· Skin cleansing and improvement
· Stress reduction
· Reduction of fatigue
Tips and recommendations:
· Your body is wise and will know when to get out of the water to change from one bath to another at a different temperature.
· We recommend alternating hot and cold baths for better stimulation of your body.
· Keep your body hydrated, especially after the Vaporium. Remember that at all times you will be able to access the relaxation room where you will always have cold water and our special selection of AIRE Tea at your disposal.
· If during your massage, at any time you feel that the pressure is too intense or too light, please indicate this to your therapist