The big day is approaching. Your kitchen table is littered with wedding invitation samples. You're scouring every boutique in town for the perfect dresses for your bridesmaids. Arranging the seating chart feels like playing Tetris and losing. You've sampled at least 20 different varieties of wedding cake (okay, this one isn't all that bad). At this point in the game, you desperately need some real pampering. Not even your typical spa experience will do; you need something truly restorative and unique. Book a quick getaway with your special someone at AIRE Ancient Baths.
Here, you'll find exclusive experiences that harness the holistic healing power of thermal baths, a timeless Greco-Roman practice. Let AIRE's beautifully restored, historical, candle-lit building whisk you away to another time and place. Release the tension of wedding planning and carve out some time to celebrate your love by indulging in one of AIRE's special packages for couples.
Escape Together Experience for Two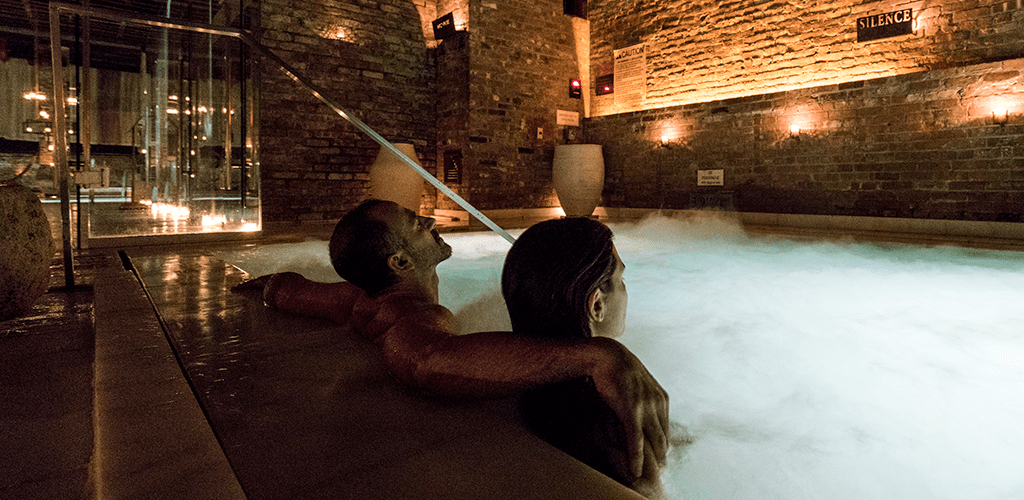 AIRE's Escape Together Experience for Two is the perfect pre-wedding stress buster. This package is a 120-minute restorative experience that includes a 45-minute aromatherapeutic couples' massage targeting the upper body. Have you been hunching over your seating chart trying to figure out how to prevent a food fight from breaking out among your cousins? Let a professional therapist soothe those rigid shoulders and tension headaches that inevitably develop when planning a wedding.
The use of hot compresses, infused with AIRE's signature Orange Blossom scent, will help release muscle stiffness and let you drift away for a few precious minutes. Warmth is clinically proven to soothe tense muscles and release rigidity in the body. Orange Blossom, in addition to its invigorating floral-citrus aroma, boasts a number of healing properties, reducing cortisol levels (which naturally spike when dealing with events as stressful as wedding planning), lowering blood pressure (which goes hand-in-hand with stress reduction) and boosting the immune system (which can often take a hit when struggling with chronic stress). It takes 1000 pounds of orange blossom flowers to produce just one ounce of essential oil, making this exquisite scent an expensive and sought-after holy grail of aromatherapy. At AIRE, this sort of elite pampering is right at your fingertips.
After the massage, tour AIRE's thermal baths at your leisure. Let the hot and warm waters of the Caldarium and Tepidarium loosen up your tense muscles, cool down by taking a dip in the cold-water Frigidarium, release all stress-related inflammation and joint pain in the salt-water Flotarium, enjoy a jet-powered dip in the Balneum and breathe deeply in the aromatherapeutic Laconicum. Meanwhile, cool off by sipping on fresh juices from The Butcher's Daughter, a plant-based restaurant that harnesses the delicious nutritional powers of fresh fruits and veggies.
This is certainly a relaxation experience worthy of a king and queen.
You can find more info about this great experience in AIRE New York & AIRE Chicago
The Grand Indulgence Experience for Two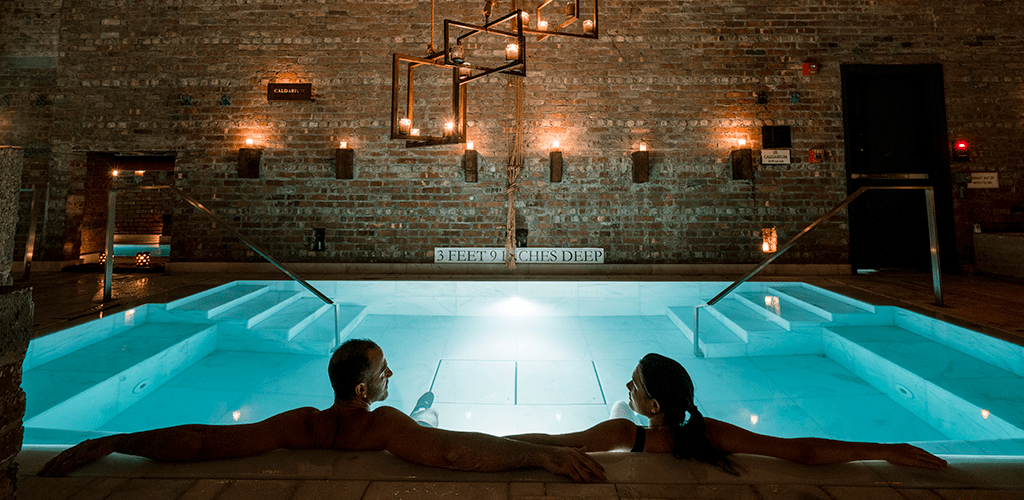 If you want to kick it up a notch and really feel like royalty, go for The Grand Indulgence Experience for Two, also avaliable in New York & Chicago, AIRE's longest body treatment, clocking in at 180 minutes of pure bliss.
They say variety is the spice of life, so AIRE chose lavender to feature as the signature scent of this package. With its sweet floral aroma, lavender exerts many of the same stress-reduction effects as AIRE's Orange Blossom.
This treatment includes a 70-minute full-body couples' massage with lavender oil to relax those tense muscles and soothe the mind.
If your feet are worn out from frantically running from boutique to boutique and trying on more heels than you ever thought existed, the 15-minute foot massage included in this package may be just what the doctor ordered.
Invigorate your exhausted body by following up with a 20-minute lavender body scrub that will shed away everything that's weighing you down.
Like the Escape Together Experience, The Grand Indulgence gives you access to tour AIRE's thermal baths at your own pace and enjoy a wide selection of teas while you relax.
There is no better preparation for the big day. Get a taste of your honeymoon before the wedding by incorporating some much-needed indulgence with your other half while you await the ultimate celebration.