Valentine's Day is fast approaching! A holiday that celebrates love, couples all around the world tend to exchange Valentine's Day gifts to show their appreciation and affection. Typical Valentine's gifts usually include chocolate or a greeting card known as a 'valentine,' although people can be as extravagant or as simple as needed with Valentine's gifts.
Origins of Valentine's Day
How did Valentine's Day come about? Why is it celebrated on February 14th? The holiday itself is named after Saint Valentine, a man who became a martyr while defying Roman rule in the third century. While different versions of Saint Valentine vary, they all deal with love and romance – whether he is performing marriages in secret, or writing love letters or 'valentines' to a girl he fell in love with.
St. Valentine's Day was declared as February 14th by Pope Gelasius at the end of the fifth century, but it still wasn't associated with romance. In fact, historians believe that Valentine's Day was made a feast day to Christianize the Roman pagan fertility festival known as Lupercalia.
It wasn't until the Middle Ages when Valentine's Day became known as a celebration of love; one of the oldest valentines to exist dates back to 1415! Valentine's Day cards are a staple of the holiday, and have expanded to not just lovers, but also permissible to give to friends and family alike.
Now, Valentine's Day has become a heavily commercialized holiday, with movies and businesses promoting love, sex, and romance with images of hearts, cupids, and love-centric things.
Couples' Plans for Valentine's Day
So, how do couples celebrate Valentine's Day? It could be something as simple as exchanging Valentine's gifts, or something more extravagant like a romantic vacation or dinner planned out.
For a great Valentine's gift or Valentine's date that goes beyond chocolate and flowers, try one of our suggestions below.
Romantic Dinner:
One romantic Valentine's gift is to treat your significant other to a wonderful dinner! This could mean taking them to a fine-dining restaurant they've always wanted to go to, or cooking a full meal for them at home. A memorable dinner date is a classic Valentine's date idea for a reason, as plenty of foods like oysters and passion fruit are considered aphrodisiacs.
Special Event or Gift:
Valentine's gifts are a staple during Valentine's Day, as they're considered a gesture of showing love and appreciation for your significant other. While jewelry, flowers, and other gifts are always appreciated, going the extra mile and treating a loved one to a Broadway play, a staycation, or a romantic getaway can definitely make Valentine's Day extra memorable.
It's the thought that counts, and if your partner loves grand gestures, a grand Valentine's gift is the perfect way to celebrate your love on Valentine's Day. Taking into account the benefits of the passion fruit in the body, at Aire Ancients Baths we have created three limited edition experiences to enjoy the passion fruit. These treatments are ideal to surprise your partner in San Valentin.
Treatments with passion fruit 
It's All About Passion Experience
In addition to a soak in the thermal baths, couples will receive a 45-minute massage with passion fruit infused oil, to help rejuvenate and relax the body. Afterwards, enjoy a healthy, delicious aphrodisiac juice made from strawberrys- one of the worlds best known aphrodisiacs.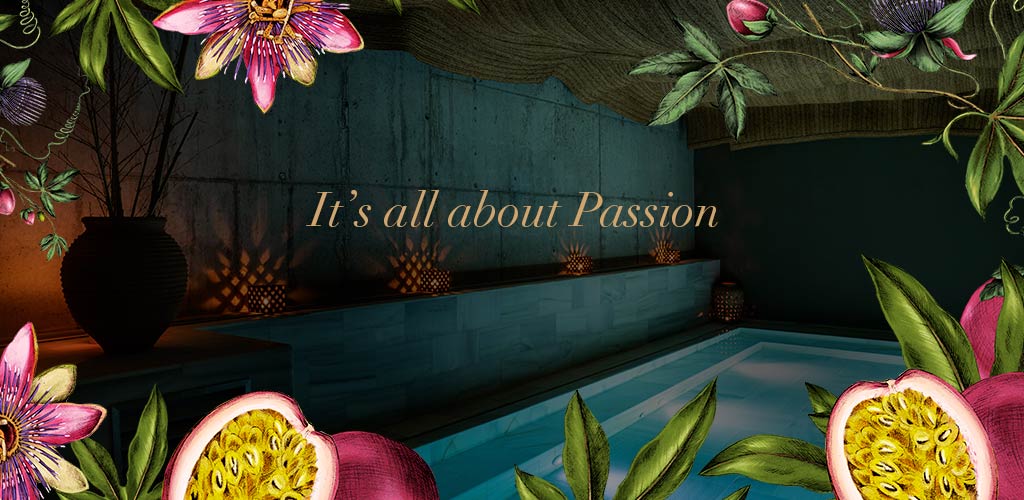 Let Passion Run the World Experience
For a longer, more luxurious experience together, upgrade to this couples experience. After soaking in the thermal baths, rejuvenate the skin with a 20-min passion fruit scrub, followed by a 40-minute massage with passion fruit infused oil. The scent of passion fruit throughout the experience will put your mind and body at ease so you can enjoy each other's company.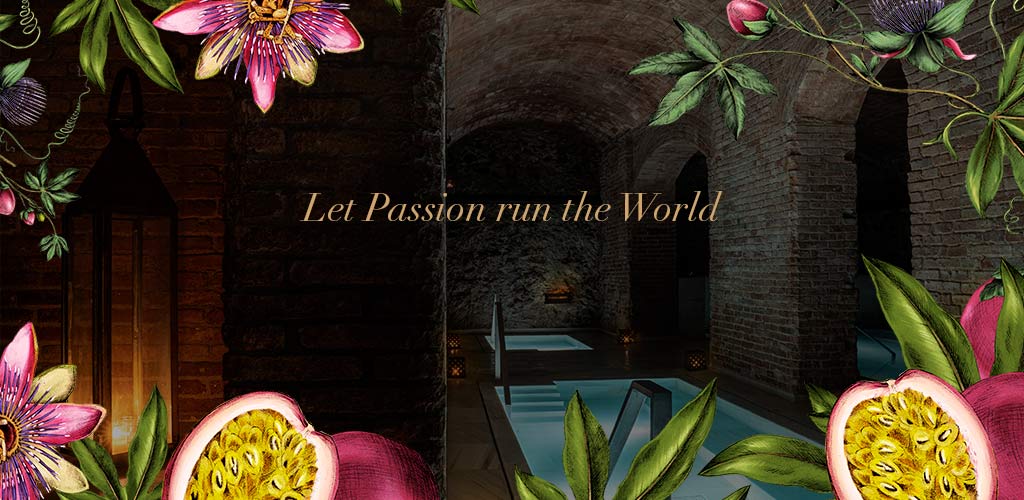 In addition to a romantic time together, these AIRE experiences will give you energy, like the C vitamin from the passion fruit, and invigorate your body. Also included in the experience: we give away a "Limited Edition Illustration" so that the AIRE Experience will last even at home. Book now between February 1st and February 29th to celebrate the romance in your life.