Passion fruit, a well-known berry from Brazil, has a sweet yet sour taste that's popular in desserts, drinks and smoothies. Ranging in color from purple to yellow and named after the flower on its vine, passion fruit is not only delicious, but has a lot of health benefits too!
From being nutrient-rich to reducing anxiety and even sanitizing tooth cavities, there's plenty of reasons to add passion fruit to your diet and reap its rewards. Read on to learn more about passion fruit's benefits.
Passion Fruit Benefits for Skin and Hair:
One benefit from eating passion fruit is younger, healthier looking skin. Like many fruits and vegetables, passion fruit is full of antioxidants and minerals that really benefit the skin and hair. This superfood contains Vitamin C, Vitamin A which are great for anti-aging. These two antioxidants along with riboflavin and carotene can help skin retain moisture and improve blood flow, making it look younger and prevent aging and wrinkling. 
Passion fruit also contains potassium, vitamin B6 and vitamin B2, which help with the circulation in your scalp. This benefit of passion fruit leads to a healthy scalp and healthy follicles, which is important for growing stronger hair.
Passion fruit also has anticarcinogenic properties meaning that the antioxidants found in passionfruit can help to reduce the effects of free radicals on the skin, as well as limit free radicals' effects on mutating regular cells into unhealthy cancer cells.
Another passion fruit benefit is that it has anti-inflammatory properties, which can help soothe the skin when it's irritated. For example, natives of the Amazon Rainforest make use of passion fruit as a medicinal ingredient, incorporating the leaves in poultices for cuts, bruises, and pain relief. 
Passion Fruit Benefits for the Mind:
One great thing about passion fruit is the many versatile ways it can be consumed. Almost all of its parts, the seeds, the pulp, the leaves, can be eaten or used, and almost all pieces are beneficial in some way. 
For example, passion fruit tea can be made from the leaves and has anxiety-relieving properties. This passion fruit benefit comes from the alkaloids that are found within the fruit. The alkaloids in passion fruit can help reduce anxiety and depression as well as insomnia, because they are like a mild sedative. Drinking passion fruit juice or tea can help to calm you down so that you're more relaxed. It can be seen as a mood enhancer.
Passion Fruit Benefits for the Body:
In addition to benefiting the skin, passion fruit benefits the body immensely. Passion fruit is a good source of fiber, potassium, and iron, which can help improve the digestive system and metabolism, regulate and improve blood flow, and also contribute to improving bone health. Many of these minerals and vitamins work together or help with different functions. So while passion fruit is good for repairing skin cells from aging, it's also good for repairing damaged bone cells and making bones stronger.
Another benefit of passion fruit is that it has a low glycemic index value. This means that it's good for people with diabetes – they can eat passion fruit for fuel without too much of a risk to their blood sugar, in moderation, of course. Passion fruit can be a good snack that helps to maintain insulin levels or even lower insulin sensitivity levels, due to a special compound found in the fruit called piceattanol.
Lastly, passion fruit is considered an aphrodisiac, and it's not just because of the name of the fruit. For many of the reasons listed above – regulated fiber, good skin, and potassium to keep blood pumping – passion fruit is one of those foods that can help with getting into the mood. Plus, some studies show that consuming passion fruit, which is rich in beta-carotene, can help with male infertility.
No Valentine's Day is complete without a celebration in one of our AIRE locations. A great idea for a Valentine's gift, AIRE has two exclusive and limited AIRE experiences for couples: the It's All About Passion Experience, and the Let Passion Run the World Experience. Both utilize the properties of passion fruit, as well as access to the AIRE thermal baths for a romantic and relaxing spa getaway for two:
It's All About Passion Experience
In addition to a soak in the thermal baths, couples will receive a 45-minute massage with passion fruit infused oil, to help rejuvenate and relax the body. Afterwards, enjoy a healthy, delicious aphrodisiac juice made from strawberrys- one of the worlds best known aphrodisiacs.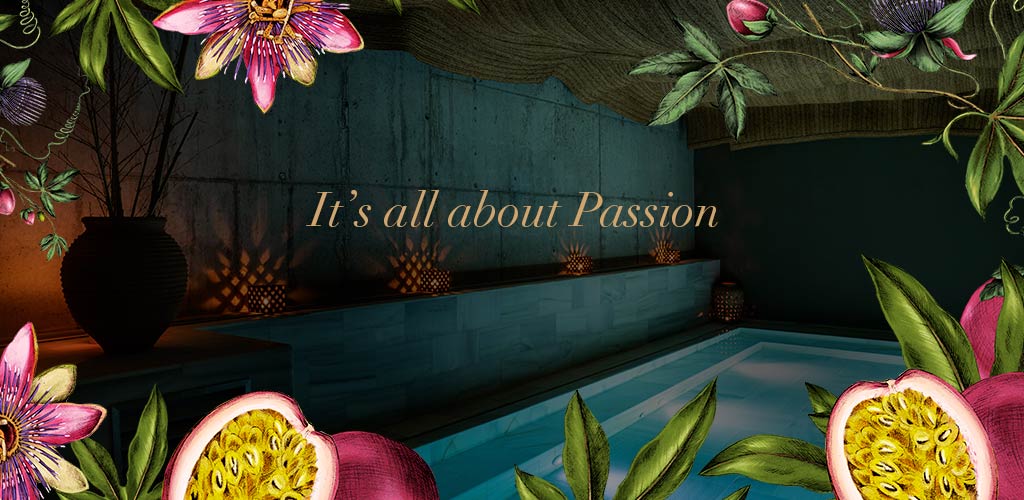 Let Passion Run the World Experience
For a longer, more luxurious experience together, upgrade to this couples experience. After soaking in the thermal baths, rejuvenate the skin with a 20-min passion fruit scrub, followed by a 40-minute massage with passion fruit infused oil. The scent of passion fruit throughout the experience will put your mind and body at ease so you can enjoy each other's company.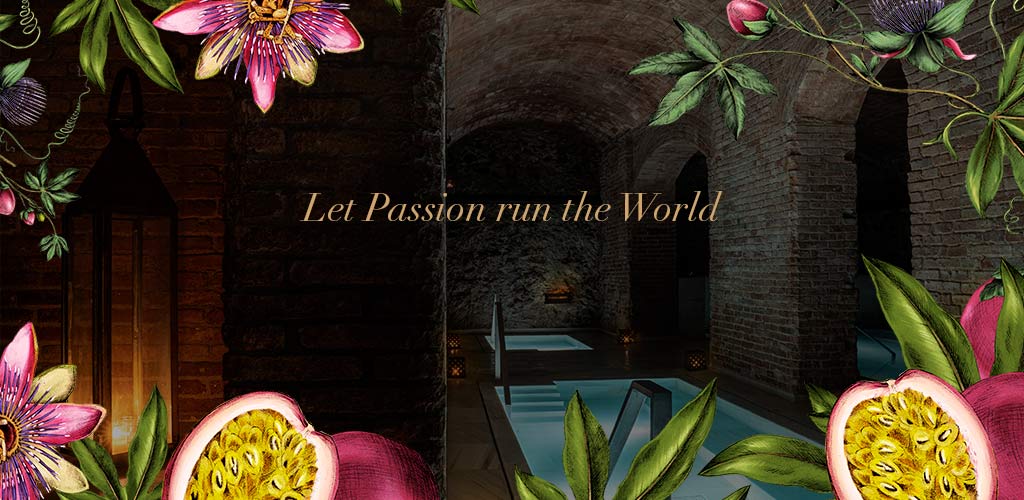 In addition to a romantic time together, these AIRE experiences will give you energy, like the C vitamin from the passion fruit, and invigorate your body. Also included in the experience: we give away a "Limited Edition Illustration" so that the AIRE Experience will last even at home. Book now between February 1st and February 29th to celebrate the romance in your life.
Passionate for Passion Fruit 
A well-balanced diet is important for fueling the body and mind and keeping it strong and healthy. Since passion fruit contains so many vitamins and healthy benefits, it's easy to see why people consider it a superfood. Plus, passion fruit is a sweet treat that can be used to replace other sugary foods!