Dealing with stress is an essential life skill. Let AIRE experiences be one of your techniques for taking a big breath and living to the fullest with loved ones!
As the song goes, we all need somebody to lean on, whether you are single or have a significant other! Daily life puts a lot on our shoulders, between work, home, other responsibilities, your mutual families and friends and relationships.. When you're working so hard to make all of that happen, it's that much easier to melt down and lose it just when you need each other the most.
There are lots of little things you can do to help de-stress and support each other, though. Some stress relievers may appeal to your romantic or your practical side, like surprise flowers or making arrangements to have dinner ready for the family. These displays of tenderness are stress prevention and crisis management actions, resulting in more space for love and joy.
Setting aside time to give your absolute, undivided attention to each other is also essential, even if it's just for a few minutes. Being fully present and listening to each other is a very real form of love and it never goes unnoticed when it's genuine.
AIRE offers a number of unique experiences designed to be stress-relievers for couples who are dedicated to taking time out for each other.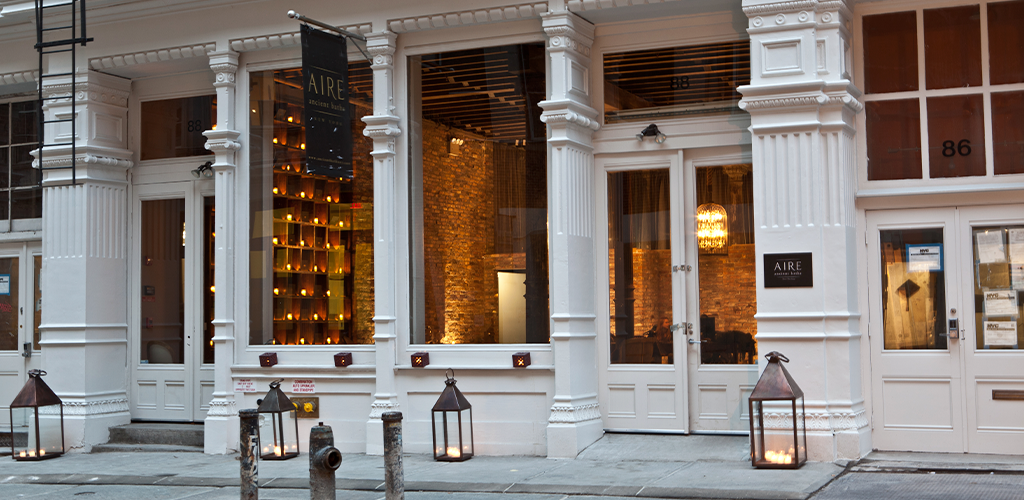 The Grand Indulgence Experience for Two
This experience is AIRE's longest and indulgent body treatment and it was developed especially to be enjoyed with someone special knowing you might need some extra time together. This ritual was especially designed to eliminate fatigue, giving you the gift of mental and physical calm. You will both experience the luxury of a 70-minute massage with an additional 15-minute foot massage to release all tension, as well as a full-body scrub. Infused with lavender, this holistic relaxing time is all yours.. What could be more indulgent than the 105-minute long treatment series, PLUS access for two to the thermal baths? Enjoy the ritual and the baths at your own pace and share this blissful time together.
Book your experience in New York or Chicago
Escape Together Experience for Two
Another option is the Escape Together Experience for Two at the New York AIRE location and also in AIRE Chicago, made so you could get back to the basics, the foundation of you. A dip in the thermal baths makes for some guaranteed quality time. Indulge in the salt exfoliation area or rest together on the warm marble stone as you sip cool water or fresh juice.. This special ritual uses orange blossom essential oils for 45-minutes of upper body massages with heat compressions will renew each of you, relieve your stress and let you rediscover the "you" you used to know. No burdens, no obligations. Just you, as you truly are.
The Wine Bath Experience for Two
Available in both New York and Chicago, The Wine Bath Experience for Two gives you both the chance to absorb complete relaxation in a private bath filled with antioxidants for brilliant, smoother skin. Soak in the nutrients of Spanish red wine grapes from the Ribera del Duero region for 30 minutes, after which you will receive an Esdor tempranillo grapeseed oil massage in addition to a cranio-facial massage. The honey and propolis mask will hydrate and pamper you both, leaving a smile on your faces to share with each other. Can you think of any better place for deep relaxation? This is a fantastic way for couples to release stress, and the calm will be written all over your face. 
We know it's not easy to keep it together and that your relationship is one of the most important and essential parts of your lives. Make sure to take some time out, decompress and indulge with one of our experiences for two, whether in the New York or the Chicago area. We are pleased to support you by offering the dedicated space and time to let it all go. Make it a ritual!