Black Friday is back on 25th November, officially kicking off the busy holiday season. If you're planning to use this time to get a head start on your Holiday gifting, why not consider something a little different this year? Find the best gifts. A gift that the people you love will remember forever; an unforgettable experience filled with magic. Sounds tempting? Then you should not miss what AIRE Ancient Baths has prepared for these dates: a unique and exclusive opportunity to share relaxation.  
Want to know more? Keep reading and discover how to give absolute relaxation to your partner, family and friends.   
AIRE Black Friday Specials: Choose to share and gift experiences 
We want 2022 to be the year to give something unique, an experience that awakens all five senses. For that, we present to you our authentic and distinctive AIRE Experiences, with exclusive massages, rituals and thermal baths. An oasis of relaxation in the heart of the city, dedicated to offering balance to the body and mind and where you can immerse yourself in a world of tranquillity surrounded by magic.  
That is why we bring you the Black Friday Specials, the ideal opportunity to make your gifts go beyond material things. A unique way to give the gift of relaxation with an exclusive benefit. What are you waiting for? Explore our experiences and choose the one that will delight your loved ones this Holiday Season.
You can now make yours one of the limited opportunities to gift an experience of relaxation with massages, rituals and thermal baths with a complimentary 15 minute massage upgrade. Get a head start and share relaxation this Holiday Season. Select your AIRE location: New York, Chicago, London, Copenhagen. 
This is the ideal opportunity to get ahead of the Holiday Season, sharing all the magic of an AIRE with that special person. Experience with our AIRE Gift Boxes. Select the centre where you want them to enjoy an unforgettable moment, discover all our exclusive experiences and get ahead of the Holiday Season by sharing absolute relaxation. We have an experience for everyone, from lovers of self-care to the couple who need a moment of relaxation and disconnection like never before.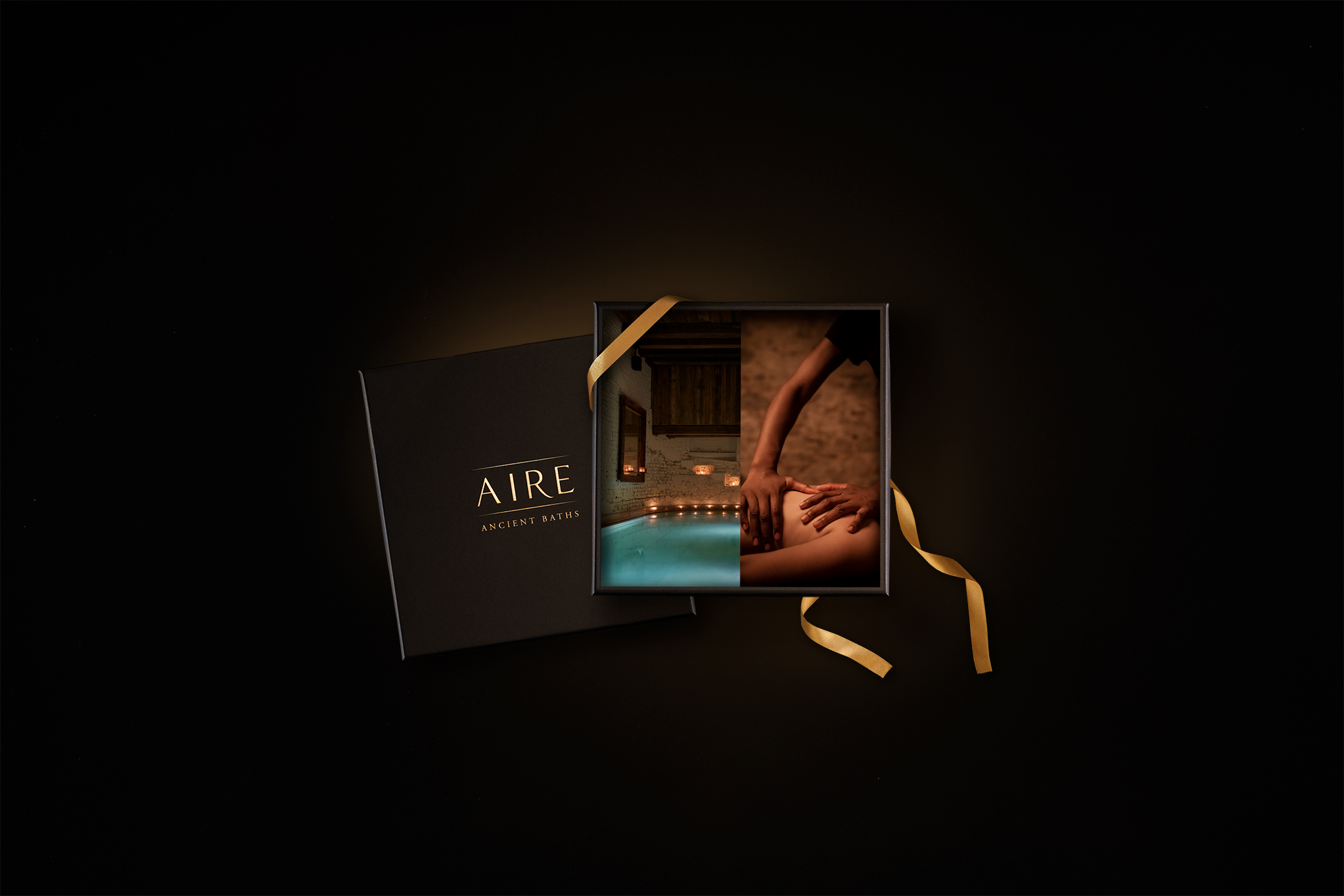 An ideal gift: Ancient Experiences
The most iconic experiences of AIRE Ancient Baths with which that special person will enjoy the pleasant sensation of our baths at different temperatures, a moment to let go in which will receive a relaxing massage with essential oils to release their muscles from the tension of everyday life.  
A moment of total relaxation as a gift. 
A gift to share: Couples Experiences 
Our category of experiences for two. For the moments that are best lived with someone special, these experiences are created to be enjoyed in with company and include a wide variety of products and techniques that will make your moment unique.   
Share relaxation in the best way.   
A gift for pampering: Renewing Experiences
The perfect gift for those who care for their skin and look radiant. All the rituals in this category include an exfoliating treatment with carefully selected products and textures to renew the skin and a relaxing massage, perfect for a moment of calm for body and mind. 
Find a unique experience to give as a gift this year. Get a head start on this Holiday Season and share relaxation.