It's time for the grape harvest, and what better way to celebrate the season than with an AIRE Wine Experience ritual?
Health benefits of red wine
According to the research, a glass of red wine contains many benefits in just a few sips. A moderate glassful of red wine is a famed source of antioxidants that could help fight free radicals, which are linked to oxidative stress and the aging process. These antioxidants have also been associated with longer lifespans. You can even enjoy these benefits without drinking; some people apply the libation to their skin as a topical antioxidant treatment.
If you prefer to enjoy wine from the carafe and not as an ointment, you will be consuming more than just antioxidants. Polyphenols are another kind of heart-healthy compound found in red wine that fights heart and cardiovascular disease. They are also thought to help prevent certain kinds of cancer, such as prostate and colorectal cancers, though science has not yet reached definitive conclusions on that point. Polyphenols additionally increase the amount of omega-3 fatty acids in the body, with positive effects for cholesterol and cardiovascular health.
Body benefits of the red wine
Red wine can be good for your mind as well as your body. Training your brain to identify aromas and flavors is a multisensory way to keep your neurons sharp. It's so much fun to discover the flavors that result from diverse grape varieties and winemaking methods. Challenge your skills and don't be afraid to play with your food to get all the benefits wine offers!
Tradition and culture of vineyards
As you get to know wine, you will come to discover its historic significance throughout the world. The history of the domesticated grape stretches back at least 6,000 years, the point at which we think it started creeping into the cultural and environmental fabric of civilizations where grapes grow. The development of Vitis vinifera and wine production have clearly transformed this vine and woven it into daily human life as a prominent symbol in religion and philosophy across the globe.
The grape harvest has brought together entire communities for millennia. In winemaking regions across the planet, whole villages have put aside their routines for days in order to collect in the fruit that will sustain them throughout the year in one way or another. They have known that when you share in the work, the fruits of your labors are sweeter for it.
Participating in the harvest is still an option at some vineyards these days, so ask around and see if you can join in on the fun. Truth be told, it can be hard work, but it can be fun, and some wineries are open to an extra pair of hands. Others have even made harvesting part of their wine tourism activities.
The Wine Bath Experience at AIRE Ancient Baths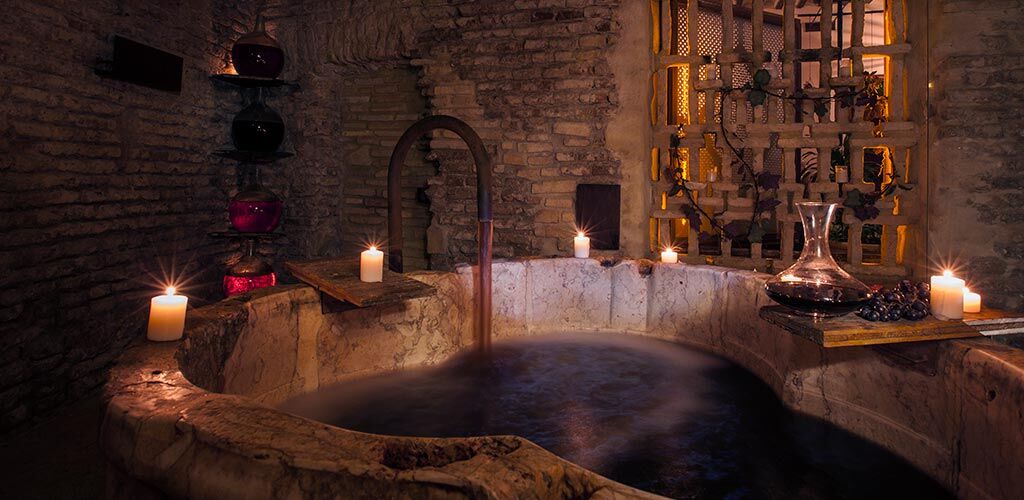 AIRE Wine Bath Experience is another wonderful way to take part in the harvest season whether you are going solo or select their option for two.
Your experience includes immersion in a private non-alcoholic wine bath infused with antioxidants. Spanish tempranillo grapes will give you bright, smooth skin as you relax for 30 minutes in this gentle yet invigorating elixir.
As part of the bath, you will also receive a honey and propolis massage for 15 minutes of intense head and facial hydration and relaxation. The bath and massage are followed by a grapeseed oil body massage. This oil is a product of Spain's Ribera del Duero region's grape harvest and made available by Esdor, a Grupo Matarromera company, as part of their technologically advanced cosmetic product line.
A complimentary glass of Spanish red wine paired with fresh grapes and aged cheese perfectly complements the AIRE Wine Experience ritual, as could be no other way.
As part of your ritual at AIRE Ancient Baths in Barcelona, Sevilla, Almería in Spain and in New York for one or for a couple and Chicago for one or for a couple in USA, you have access to a thermal bath circuit with a series of thermal baths, each one a different temperature. Some baths are designed as special sensory experiences: the aromatherapy steam bath, the saltwater bath and the bath of a thousand jets to mention the highlights. Rest and relax on warm marble between each bath and taste a selection of refreshing specialty teas.
Discover the benefits of red wine with a glass, and better yet, with a massage and a red wine bath, all part of the AIRE Wine Experience ritual.