Ode to Senses
Ode to Senses
From April 23rd to April 26th, come discover a journey of sensations in a bespoke AIRE event. An Ottoman Tale will transport you in time with this limited edition experiences.

This majestic limited edition ritual will transport you to another space and time as you find an encompassing mind and body connection for relaxation. Our special Argan Oil blend will awaken your senses into a moment of supreme comfort. Let yourself go and breathe deeply.
Often referred to as the 'Gold of the Desert' discover the luxurious and hydrating properties of Argan Oil in this exclusive limited edition Ritual. Inspired by the Ancient Ottoman civilizations, take a trip back in time and make your overall wellness and relaxation a priority.
Your ritual includes a 45 minute full body massage including a deeply nourishing foot treatment. A deep nourishing foot mask will deliver elasticity and smoothness to your feet while you indulge in a special foot massage.
This experience includes a thermal tour through baths at different temperatures including the temperature baths- Caldarium, Frigidarium, Tepidarium- the Balneum (Bath of a Thousand Jets), the Vaporium (steam room with aromatherapy) and the Flotarium (Salt water Bath).
Refresh yourself with a premium Juice and Shot Pairing with a Mango Turmeric juice and Vitality shot. Be delighted by their exquisite taste and add an extra layer of antioxidant and anti-inflammatory properties to your AIRE Experience.

Includes:
- A tour at your own pace through thermal baths at different temperatures
- 45 minute body massage with Argan Oil including a nourishing Argan foot treatment
- A Mango & Turmeric juice & shot pairing

During your visit you can also access the relaxation area to rest on warm marble stone and refresh yourself with some cold water or enjoy our special selection of AIRE tea.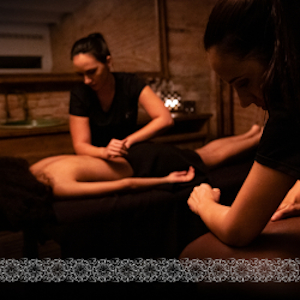 Body and mind benefits:
Argan oil is known as the "Gold of the Desert" given its numerous and powerful properties for the skin. It comes from North African countries, through a process of sun-drying and cold-pressing the fruits of the Argan tree. It contains a high concentration of natural fats and is very rich in vitamin E, making it ideal for hydrating and preventing signs of aging. With this ritual you will achieve a feeling of total escape, as it involves a slow, rhythmic massage technique with long strokes.
Tips and recommendations:
During the thermal tour, listen to your body to know when you should change from one bath to another of a different temperature. Remember that at any time you can access the relaxation room, where cold water and our special selection of AIRE Tea to keep you hydrated are always at your disposal. If at any point during your massage you feel that the pressure is too intense or too light, please, tell your therapist.
Enhance your experience AIRE Couples Specials
Chocolates and a glass of Cava
A glass of cava and assorted truffles to fulfill your AIRE Experience and enjoy it to the maximum.
A special treat to relax you even more if possible and enjoy completely the AIRE Experience.
Heighten your AIRE Experience with an absorbing 15 minute extra massage per person.
The ideal complement to keep a balance between your inner and outer body. Includes one unit.