Red Wine Soak: Valentine's Edition-Experience for two
Red Wine Soak: Valentine's Edition-Experience for two
This Valentine's Day discover our most unique, pampering and indulgent experience at AIRE. Designed exclusively for AIRE Ancient Baths, this is a unique and unforgettable journey that offers the opportunity to submerge yourself completely in the antioxidant properties of the Spanish Ribera del Duero red grapes.

Don't miss this experience that revolves entirely around the sophisticated universe of wine and the multiple antioxidant properties of the polyphenols of the Tempranillo grapes.

Thermal experience including the Caldarium (Hot Bath 102ºF), the Frigidarium (Cold Bath 57ºF and Ice Bath 50ºF), the Tepidarium (Warm Bath 97ºF), the Balneum (Bath of a Thousand Jets), the Laconicum (Steam Room, we have two at different steam intensity and both with aromatherapy), and the Flotarium (Salt Water Bath). We also have an indoor/outdoor bath to swim outside that will adjust its temperature depending on the season as well as a salt exfoliation area.
During your visit you can also access the relaxation area to rest on warm marble stone and refresh yourself with some cold water or enjoy our special selection of AIRE teas.

Exclusive access to the Wine Bath for 30 min. This portion of the experience happens in a private room in which you will soak in an antique venetian well of the XVII century converted into a bath.

During this time you will receive a 15 min. cranial-facial massage.


Romantic Experience
Unique Experience
Body Treatments
Includes:

• Signature Ancient Thermal Baths
• 30min private Red Wine Soak
• 15 min cranial-facial massage
• Wine and cheese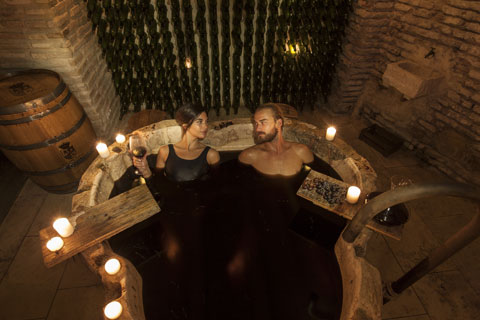 Body and mind benefits:
The polyphenols from red grapes are some of the most effective natural antioxidants with numerous studies that back their use in the field of cosmetics and skincare.

It is scientifically proven that the polyphenols have an elevated antioxidant capacity, higher than that of vitamins C and E. They help neutralize free radicals, the main cause for premature skin aging. Additionally, they act as substances that protect the skin's components, preventing the oxidation of collagen and elastin fibers, as well as anything else that may come in contact with them. When this experience is over, the result will be an extremely soft, smooth, and bright skin, accompanied by a feeling of extreme relaxation.

Tips and recommendations:
During the thermal tour, listen to your body to know when you should change from one bath to another of a different temperature. Remember that at any time you can access the relaxation room, where cold water and our special selection of AIRE Tea to keep you hydrated are always at your disposal.