The Vegan Experience for two
The Vegan Experience for two
In order to cope with the summer weather, your skin needs an extra dose of loving care. Go ahead and reward it by taking advantage of our exclusive 100% vegan ritual, while at the same time allowing your mind to free itself from all the stress it has accumulated.

The Vegan Experience by Ayuna includes:

- A free thermal tour.

- Body exfoliation with an organic luffa sponge. This takes 15 minutes and is performed on a bed of warm marble, using a layer of organic luffa to add to your skin's smoothness, softness, and luminosity. Furthermore, you'll be able take your luffa home with you at the end of the experience so that you can continue to make use of it.

- A relaxing 45-minute body massage. This is performed in the massage room, where they first work on the back of the body, then the front, and conclude with a craneo-facial massage. During the entire process they work with Ayuna' s unique "creme" containing 100% vegan ingredients. It consists of an oil base made with sweet almonds and olives, and also contains the so-called "Beautifulness Cocktail": an aromatic natural cocktail with an essential-oils base of gurjum, guaiacum, myrrh, chamomile, rosemary and buchu. This concoction succeeds in protecting the skin and gives it more beauty and elasticity. At the same time, it provides penetrating moisture and nourishment.

- Finish off with a refreshing and invigorating touch in the form of a delicious green iced tea fusion with natural mint and lime. You'll be able to savor this in our relaxation area.

*For this experience, we work with products by the company Ayuna ·Less is Beauty, a brand committed to conscious living based on the search for natural and pure ingredients, and a declared friend of vegan and vegetarian culture.
Unique Experience
Exfoliation Experience
The Vegan Experience for two includes:
Free thermal tour with stays in the Caldarium (Hot Bath /40º)
The Frigidarium (Cold Bath / 16º)
The Tepidarium (Warm Bath / 36º)
The Balneum (Bath of a Thousand Jets)
The Laconicum (a Steam Bath with aromatherapy)
The Flotarium (Salt Water Bath)
During this time you can access the relaxation area room with a warm marble seating area and taste our special selection of AIRE teas.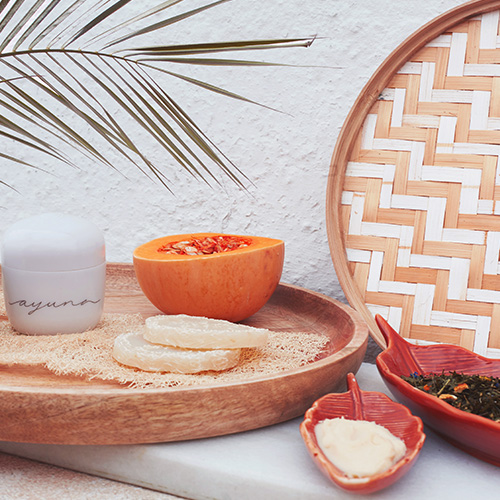 Body and mind benefits:
This ritual is specifically designed for pampering yourself inside and out, and for preparing your facial skin for the summer, pampering and protecting it from exposure to the sun. At the same time, C-tactile massage maneuvers generate positive sensations that stimulate the peripheral nervous system's pleasure receptors. This enables the mind to relax completely and to release its accumulated stress. The result is an intense sensation of well-being and a skin that's notably revitalized, silkier, and smoother. And, thanks to the application of Ayuna's 100 % natural and vegan products, it acquires further moisture and luminosity.
Tips and recommendations:
During the thermal tour, pay attention to your body so that you know when you should change to a bath of a different temperature. Remember that you can access the relaxation room at all times, where, to keep you hydrated, you'll always have cold water and our special selection of AIRE Tea at your disposal. If you feel at any point during your massage that the pressure is too intense or too light, please tell your therapist.
Explore other similar experiences AIRE Limited Edition