AIRE Home Collection
AIRE Home Collection
We present our new collection of AIRE items that will allow for you to continue your AIRE Experience at home.
CANDLE
Containing the aroma of orange blossoms, the candle is made with 100% natural wax and pure cotton wicks that burn slowly and cleanly. The result is a bright, warm and enveloping light with an estimated duration of 50 to 60 hours. It was exclusively designed by a candle factory with more than two hundred years of history—the oldest in all of Spain.
Orange blossom is the flower of the orange tree that blooms every spring in the Andalusian city of Seville, the birthplace of AIRE Ancient Baths. Its delicate fragrance is what we also choose as a perfume for all of our centres.
Retail price: 29€
Details:
Lasting and steady fragrance.
Candle glass measuring 80 x 95 mm
Weight: 200 g
Duration: between 50 and 60 hr
BATHROBE
You can now enjoy at home the wonderful feeling of letting yourself be enveloped in the extreme softness of our AIRE bathrobe. Made from a blend of high-quality fabrics in order to achieve a perfect balance between microfibre's subtlety and cotton's ability to dry quickly.
Retail price: 49€
Details:
Unisex model with belt, pockets and hood.
50% microfibre, 50% cotton.
Sizes: S/M, L/XL and XXL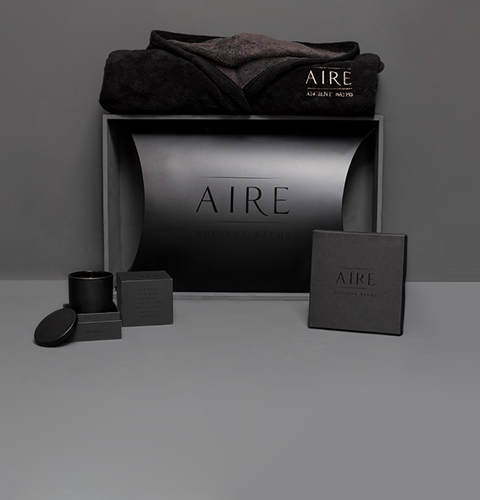 AIRE Home Collection:
Now take advantage of a special price for the new items in our AIRE Home Collection

You can buy our robe or candle at AIRE Ancient Baths:
Plaza de la Constitución, 5, 04003 Almería