Vino & Relax
Vino & Relax
This summer, allow yourself to enjoy a luxurious couples experience for all the senses, with a dip in our exclusive Wine Bath.

*Prices per couple
Includes:
Thermal bath circuit
Relaxing 30 min body massage for two
Wine bath
Craniofacial massage
Wine and cheese: enjoy a glass of wine and a selection of cheeses
During this time, you will have access to our relaxation room with its warm marble seating area and a special selection of AIRE teas.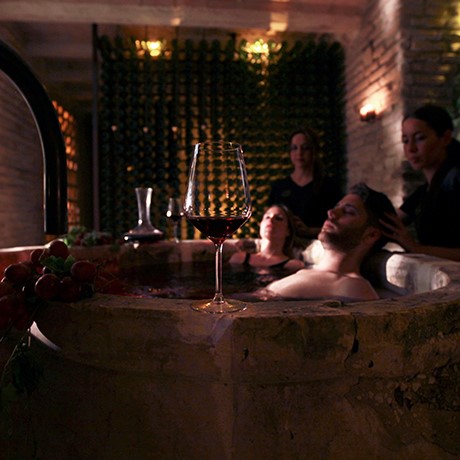 Body and mind benefits:
Tips and recommendations:
Enhance your experienceAIRE Couples Specials
Enjoy a 30 min. wine bath, a 15 min. craniofacial massage and taste a glass of red or white wine.
Chocolates and a glass of Cava
A glass of cava and assorted truffles to fulfill your AIRE Experience and enjoy it to the maximum.
The ideal complement to keep a balance between your inner and outer body. Includes one unit.